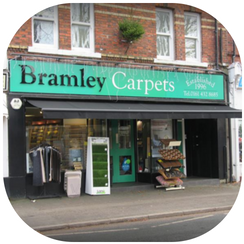 When it comes to Carpet and Flooring, Bramley Carpets understand what our customers need and with over 20 years experience, we are not just your average carpet shop with a handful of swatches.
Established in 1996 we pride ourselves on offering the finest flooring products at affordable prices with a professional service from start to finish throughout Stockport, Greater Manchester and Cheshire.
Our partnerships with leading manufacturers from all over the world enable us to offer an array of high quality floor coverings such as Carpet, Laminate, Vinyl and Wood which are all available for supply and fitting by our teams of experienced installers.
PROFESSIONAL AND RELIABLE
From choosing your flooring in one of our showrooms to fitting and delivering the services you require, we strive to always provide a professional and reliable customer experience.
FRIENDLY AND EFFICIENT
At Bramley Carpets we know a smile goes a long way so our staff aim to please. At both of our showrooms you'll find friendly and helpful advisers who can offer great expertise and knowledge about all our products to help you make the right decision when choosing your flooring.
PASSIONATE AND DEDICATED
After many years of retailing here at Bramley Carpets we have still not lost our passion for what we do and remain 100% dedicated to providing the best possible service for all of our customers.
What Others Said About Us-
David Corcoran (Oldham)
I recently had my whole house re-carpeted. i couldn't recommend Bramley carpets highly enough! The work was done to an exceptionally high standard, and we're thrilled with the results.
Steph (Stockport)
A staff member came to me beforehand to go through everything and help me choose with the samples and overall an excellent service, very professional, on time when arrived again and fitted stair and bedroom carpets to a very high standard, would use them again.
Lisa Connelly (Stockport)
Helped me choose my hall stairs and landing carpet and was fitted recently by Bramley Carpets, they did a fantastic job and even tidied up when finished which i didn't expect, i would recommend them to anyone and have booked for after the summer to do my lounge.
James Ayres (Manchester)
I have been using Bramleys for many years now and an excellence service was provided yet again helping me choose and install my new flooring, everything looks great as usual and i would have no hesitation in recommending them, many thanks!