Bring Out The Beauty In Your Home....
At Bramley Carpets we have an extensive range of sheet vinyl products available which are suitable for all areas of your home. Leading manufacturers such as Beauflor, Gerflor, IVC and Tarkett offer a wide selection of designs from Beautiful Woods, Sleek Stones and Memorable Abstracts which are all made to the highest standards in both looks and performance.
Our motivation is to offer a friendly and professional service from start to finish, so from initially choosing your vinyl flooring from one of our impressive display stands to the installation of your new floor, at Bramley Carpets we guarantee 100% customer satisfaction.
---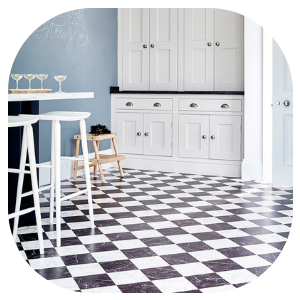 Advantages To A Sheet Vinyl Floor....
Water Resistant- Every home can be prone to leaks and spillages, with sheet vinyl flooring the worrying is over as it's water-resistant making it perfect for Kitchens and Bathrooms.
Low Maintenance- Many sheet vinyl ranges have a polyurethane PU layer that helps protect the surface and make cleaning incredibly simple with most stains removed with either a mop and bucket or a damp cloth.
Cost Effective- If you're working on a budget then sheet vinyl may be the ideal choice for you with many styles, designs and qualities available at varying low prices.
Durability- Built to last, our cushioned vinyls are built to the highest standards and are backed with healthy guarantees to put your mind at rest.
Silent Floor- Sound reduction properties are great due to sheet vinyl being manufactured with a dense foam backing making it perfect for apartments and other high spaces.
Comfort & Warmth- Cushion vinyl floors are soft and warm to touch which makes them ideal for walking on in barefoot. They are also great conductors of heat, meaning they work well with underfloor heating.
Choice- An extensive range of Wood, Stone and Abstract colours are all available in varying textures, colours and finishes.